with the Cable Company.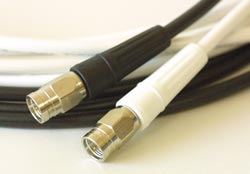 I have a story to tell. It might qualify as a rant, but I am sure that everyone has some hatred for the cable people.
So at our current house we use Cable Co. #1. We pay $61.50 a month for family cable and internet service. Cable Co. #2 has been coming to our door every other day, as well as sending me a daily mailing reminding me that they are better. It turns out that CC#2 only costs $29.99 for the same services.
Since we are moving out of this place, I decided to cancel our current service and set up new service with CC#2 for the cheaper price. First I call CC#1 and set up the disconnection for the current service. After waiting for who knows how long, I actually got to talk to a real person. Mary, a very nice woman, tries to convince me to stay with them and offers me an extension of the promotion that was going to end in August. I tell her, sorry, but the other company is still cheaper. Then I find out that I will get a refund of my deposit! Yay!
Then I call CC#2, and wait, and wait, and wait. And I finally talk to someone. He was a little overly friendly, and unfortunately our call got disconnected. So I call back. And wait, and wait, and wait. And I talk to someone new, who quickly informs me that they do not service our street.
WHAT?! Cable companies can claim certain streets?!? No way.
So I shamefully call call CC#1 back. Tell them that I don't need my services disconnected, but rather transfered. Linda, an extremely slow and confused woman, did not know what she was doing. I sat on the phone with her for at least 30 minutes and got nowhere. And then we got disconnected. Sigh. I call back, and wait, again. Then the woman tells me she can connect me back to Linda. I politely say "I think I would rather talk to you. She seemed kinda confused and we didn't really get anywhere." So she offers for me to speak with Mary, to which I say "Yes, please!"
Mary got everything fixed quickly, our monthly fee is reduced to $59.95 and she waived our transfer fee because of all the waiting I had to do. Woo hoo!
I wish I could just call up and ask for Mary everytime.
cjd